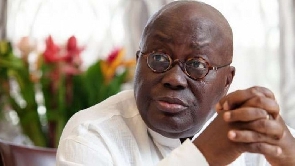 NDC's Dela Edem is already in a campaign mood after calling on Ghanaians to reject Nana Addo Dankwa Akufo-Addo's bid to serve a second term as President.
He was emphatic that the President is 'not performing' and has been exposed by the Coronavirus pandemic.

"We can't have a 76-year-old nonperforming President again," he said on NEAT FM's morning show 'Ghana Montie'.
Dela, who was discussing the Electoral Commission's obstinacy to compile new voters register amid COVID-19, noted that "The EC's choice is to help rig the election for the NPP."

"Why are they so impatient to change the register that brought them to power?" the NDC communication team member questioned.