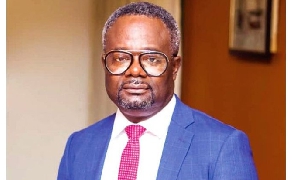 The Founder and leader of the Liberal Party of Ghana (LPG), Mr Percival Kofi Akpaloo, has emphasized that the result of Election 2020 would be decided by the political party with the best economic ideas.
He has, therefore, cautioned the two major political parties , the New Patriotic Party (NPP) and the National Democratic Congress (NDC) , not to look down on the smaller parties, particularly the LPG, because the party "is ready and prepared to match them boot for boot in terms of the best ideas to transform the country's economy".

"Election 2020 will present the opportunity for the battle of ideas. The political party with the best ideas will eventually come as the winner," Mr. Akpaloo told Kwame Tutu on Anopa Nkomo on Kingdom FM in Accra.
He said it had taken LPG so much time and resources to research and document ideas that had changed the economy of most developed countries such as Canada and the United States of America (USA).

"These ideas the party is bringing on board in 2020 elections will make Ghanaians choose the LPG ahead of the NPP and the NDC. As for the other parties, the earlier they realize they cannot win the elections, the better for them," Mr. Akpaloo said.