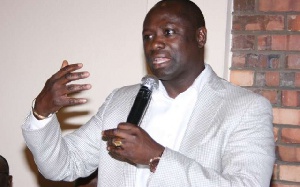 The Ellembelle constituency in the Western Region is now the stronghold of the governing National Democratic Congress (NDC), Member of Parliament for the area Emmanuel Armah-Kofi Buah has said.
The Ellembelle seat was initially occupied by the Convention People's Party's Freddie Blay, now acting chairman of the New Patriotic Party (NPP).

Following what he describes as massive infrastructural development in the constituency, Mr Buah, speaking on 505 Extra on Class91.3FM, was confident the NDC would win both the presidential and parliamentary polls in the constituency in December.

"It has become the stronghold of the NDC because it has kept faith not only with the people of Ellembelle but the people of Nzema," he stated.
"If you travel from the Jomoro district, you will see that things are happening. They are just unimaginable. Just on a recent trip the president opened a cold store. Now we have asphalt in Half Assini and Elubo, asphalt in Axim; we are about to start another asphalt in Nkroful, and there is so much that is happening, so much that has happened."

The MP added: "We've seen an improvement in educational scores in…our district and there is a lot of improvement. We are looking at clear indicators and that's what I'm saying. Don't take my word for it, come and check the data and see the numbers. …You will see the crowd and excitement especially with the youth, so, we are very excited and we believe that, clearly, [with] the work that has been done by President John Dramani Mahama in our area, the NDC is really going to win in this election and I'm very excited about it."