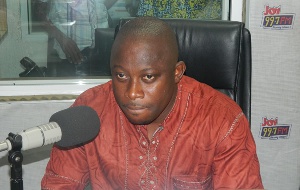 The Ministry of Energy has dismissed allegations by the National Democratic Congress(NDC) Member of Parliament for Bongo Constituency, Edward Bawa that the committee set up to investigate the contaminated fuel saga at Bulk Oil Storage and Transportation Company (BOST) never met.
Edward Bawa, who is a former communications specialist at the Ministry, claimed his sources at the Ministry indicated that there is no report on the contaminated fuel because the committee did not meet.

However, Edward Bawa later changed his earlier position and claimed that there is a report, but the Energy Minister Boakye Agyarko, has resolved not to make the report available to the public domain because it is damning.

But speaking on Oman FM, on Monday, Spokesperson for the Energy Minister, Nana Kofi Damoah accused the Bongo MP for cooking up stories in a bid to dent the image of the hard working Energy Minister.

He explained that the Committee met and submitted its final report to the Minister, saying the Minister even indicated it when he appeared in Parliament last week and said the report will be made public after a White Paper has been issued.

He could not fathom why the Bongo MP would choose to spread false information despite explanations by the Minister.
"Why would you say there is no report and later you turn around to say there is report, but the Minister said he wouldn't make the report available to the public?" he quizzed.

"What we're saying is that it's never true that the Minister has said he will not issue the report," Nana Damoah said.

According to him, the report will be made available once a White Paper is issued on the report.

"It will not be belong …..In the shortest possible time the report will be made available," he assured. It would be recalled that an eight member committee was set up in June to investigate the circumstances under which 5 million litres of oil was contaminated.

The committee which is made up of representatives from the National Petroleum Authority, Chamber of Bulk Oil Distributors, Tema Oil Refinery, Ghana Standards Authority, had terms of reference to, among others;
1. Determine the circumstances that created the off-spec product.

2. Review the procedures undertaken by BOST to evacuate the product

3. Ascertain the quality and remaining quantity of the product

4. Determine if the product can be corrected, if not determine the alternative use for the product.

The committee was given at least two weeks to conclude its investigations and counsel the Minister on the next line of action.