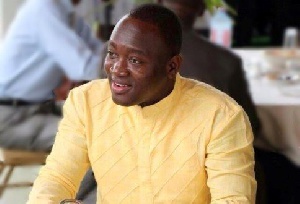 Member of Parliament (MP) for Tamale North has taunted persons who have condemned him over his comments on the Atomic Junction gas explosion and other happenings in the country.
On Saturday, October 7, 2017, Ghanaians were disappointed after the Black Stars' failed to qualifier for the 2018 FIFA World Cup in their clash against Uganda in Kampala.

The Same day in the night at about 7pm, news of a double gas explosion which led to the death of seven people and more than 100 people sustaining severe injuries, was reported.

Following these incidents, the out spoken MP who seemed appalled by the happenings wrote on Facebook, "A day after floods. A river flowed red, a national team lost sadly and a gas explosion devastated people. Too much in a single day, that thankfully is over. Please God let today be kind."

These comments by Alhassan Suhuyini did not go down well with some Ghanaians leading to many criticising him on social media.

However, the Tamale North MP, who seemed unperturbed by the attacks in another posted said, God has gifted him the ability to "unconsciously provoke people to be vile and irrational".
This gift according to him, makes many people including the devil envy him.



"I suspect even the devil envies my ability to unconsciously provoke some people to be vile and irrational. Thank you God for all gifts. #Hate_Can't_Win," he wrote on his Facebook timeline.