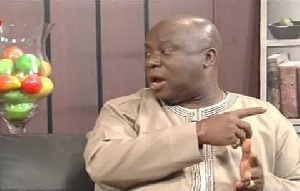 The Greater Accra Regional Chairman of the opposition National Democratic Congress (NDC), Joseph Ade Coker says the former Boss of the Kumasi Metropolitan Assembly (KMA), Kojo Bonsu does not befit a Presidential candidate.
According to him Kojo Bonsu is a very good friend, but he will advise him against his swift decision of wanting to join the forthcoming NDC flagbearership race.

Speaking on Citi TV's breakfast show, Ade Coker advised his friend not to joke with people's feelings as Ghanaians are more serious than his declaration.

"Let me advise Kojo Bonsu who is my very good friend from football circles that this country is a serious country and must be taken as such; just that sometimes it is being belittled based on the manner in which we do things," he said.

Ade Coker cautioned that the experienced football Administrator does not meet the credentials of ruling a State just because he has been a mayor.

To him, Kojo Bonsu should bear in mind that the precepts of ruling as a mayor are totally different from a presidential mandate.


"The fact that you have been a Kumasi Metropolitan Assembly [KMA] mayor before does not qualify you to say you want to be President of Ghana, Jesus Christ lets cry aloud and be serious for the world is watching us," he added.

To him, Kojo Bonsu has no strong ribs to stand a presidential position.

"I will advise him [Kojo Bonsu] to go and sleep somewhere for we can't sit here and watch every tom, dick and harry get up and want to be President . . . if your ribs are not strong you don't go taking punches," he advised.

BACKGROUND
Former Chief Executive Officer (CEO) of the Kumasi Metropolitan Assembly, Kojo Bonsu, has declared his intention to contest the flagbearership race of the opposition National democratic Congress (NDC).

The former Kumasi Mayor joins other party stalwarts such as former President John Dramani Mahama, and former Vice Chancellor of the University of Professional Studies (UPSA), Prof. Joshua Alabi.

Former President Jerry John Rawlings today (Friday), gave a hint about Mr. Bonsu's intent by posting a message on twitter after receiving him at his residence in Accra.