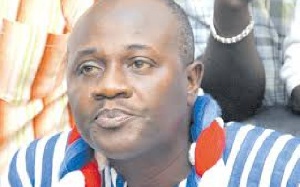 Sun, 20 Nov 2016 Source: GNA
Mr Dan Kwaku Botwe, the Member of Parliament for Okere Constituency, has urged supporters of the New Patriotic Party (NPP) to campaign on issues that would convince the electorate to vote for change on December 7.
He said the NPP had the track record of implementing policies that were beneficial to all classes of people, especially the ordinary Ghanaian, therefore, the party members and supporters must engage the electorate on these issues, which would attract massive votes for the Party.

Addressing a rally at Adukrom, to begin the five-day tour of the flag bearer, Nana Addo Dankwa Akufo-Addo, in the Eastern Region, Mr Botwe said it was only when the electorate understood the issues and they were convinced that they would embrace a change from the NDC to the NPP.

He mentioned the 'One District, One Factory policy, Free SHS Education, among other proposals in the Party's Manifesto , saying that they NPP was committed to implementing holistic programmes to improve the lots of Ghanaians.

Mr Botwe said it was important to make the electorate understand that the NPP meant well for Ghana, their laudable proposals were feasible; and they would impact positively on their lives.
"The NPP, led by its flagbearer, Nana Akufo-Addo, will not disappoint Ghanaians on their promises to better manage the affairs of this nation to improve the living standards of all Ghanaians," he said.

The two-time MP for Okere, who is vying for the third-time, and a former General Secretary of the NPP, said despite his track record of providing significant developmental projects, the NPP must win power for him to fully realise the vision he had for Okere.

The MP expressed the hope that the massive turnout at the rally would translate to votes for him and the flag bearer and it would be replicated in the other constituencies where the flagbearer had been warmly received.
Source: GNA