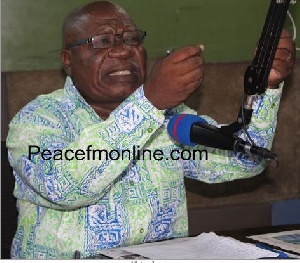 NDC's Central Regional Secretary, Allotey Jacobs has slammed President Nana Akufo-Addo for failing Ghanaians just in less than 2 years of his administration.
Speaking to host Nana Yaw Kesseh, Allotey Jacobs held strongly that the government is up to task, hence doing very little to help Ghanaians.

To him, the government is trivializing the administration of Ghana in that the right decisions are not being made to revamp the economy.

Allotey Jacobs was making submissions on the nation's celebration of the Silver Jubilee of the Fourth Republic of Ghana on Peacefm's "Kokrokoo" show.

President Akufo-Addo on Sunday held a national congregation with Ghanaians to offer gratitude to God under the theme "25 years of the Fourth Republic - Celebrating the Goodness of the Lord".
Though commending the President for rolling out policies like the Free SHS and enacting the Special Prosecutor's bill to curb corruption, Allotey Jacobs avowed that the President has turned the Seat of Government into a "clearing house" where issues of national interest come and are simply made to vanish into thin air without any serious assessment and appropriate sanctions meted out to the culprits.

According to him, the seat of government has become a place for wrong deeds to thrive because once a person is caught in the web of any malfeasance, all he/she needs to do is run to the Flagstaff House and the case is comfortably cleaned instead of properly being dealt with.

"Flagstaff house is no more Flagstaff House. It's a clearing house now. Your issue is cleaned once you send your matter there," he stated on Kokrokoo.