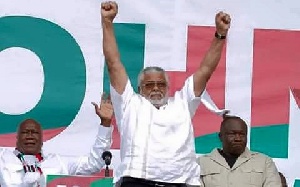 The former Sekyere East District Chief Executive (DCE) in the Ashanti Region Hon. Kwadwo Addea has urged all members and leaders of the opposition National Democratic Congress (NDC) to apologise and advocate for the comeback of former president John Rawlings.
Speaking to Kwame Tutu on Rainbow Radio 87.5Fm, he admonished the party not to treat his call with contempt but do all possible to bring back the founder because he remains the pillar of the party.

Former president Rawlings is a crowd puller and wherever he goes, everyone yearns to listen to him and so such a person should not be brushed aside. Mr. Addea was emphatic that, the NDC will only win the 2020 elections if former president Rawlings is encouraged to return.

''The youth within the party are calling for his return.The youth in the party wants Rawlings back. He was the founder of the party and signed the party's manifesto with his blood. This was spiritual.''

According to him, the victory of the NPP could not have been possible without the role of former president Kufour.

He said, although former president Kufour was holding a stick, the NPP thought it wise to use him during the campaign and his role was enormous.
He charged the Kwesi Botchwey led committee to engage the former president, apologise to him and encourage him to come back.

He was of the view that, the former First Lady, Nana Konadu Agyemang Rawlings should also be encouraged to come back. He stressed, Rawlings felt disrespected and so we have to shed our pride and get the founder back.

Commenting on the defeat of the party, he said it was not necessary for them to be blaming each other but rather focus on restructuring of the party.

He called on members to allow the report on their defeat to come out so the party will work on the recommendations.