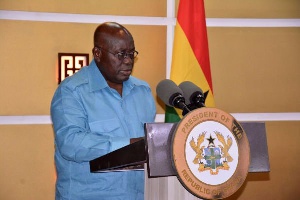 A Former Deputy Leader of the CPP, Rodalyne Ayarna has reacted sharply to President Akufo-Addo's August 4 Founder's Day proposal saying she disagrees with it.
Madam Ayarna says she stand by the fact that there is only one Founder for Ghana, and history should remain so.

She accuses President Akufo-Addo of perpetrating a family agenda to "distort Ghana's history."

President Akufo-Addo is proposing a legislation to Parliament to designate August 4 and September 21 as public holidays.
August 4 will be observed as Founder's day while September 21 will also be celebrated as Kwame Nkrumah Memorial Day.

A statement signed by the Director of Communications at the Presidency Eugene Arhin, says the nation's first President, Dr. Kwame Nkrumah, played an outstanding role in the attainment of independence hence the need to commemorate him by designating his birthday as the permanent day for his remembrance.