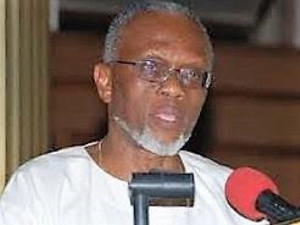 Professor Akilakpa Sawyer, Former Vice Chancellor of the University Of Ghana, has described the proposed Founder's day debate by government as "not worth debating and a waste of time".
President Akufo-Addo has proposed legislation to Parliament to designate August 4 as Founder's Day and September 21 as Kwame Nkrumah Memorial Day, both of which will be observed as public holidays.

Professor Sawyer said the country must focus on strategizing on how best to respond to the developmental needs of the citizenry rather than a debate on Founder's day.

Speaking at a lecture in Accra on Founder's Day, the Professor said Dr Nkrumah was worth celebrating because he "uniquely represented an inspired personality in the history of the country and occupied an iconic status both in Ghana and international".

He said the struggle for independence was a collection decision which involved all and sundry but that action was spearheaded by Dr Nkrumah, adding that his movement captured the spirit and mobilized the masses to fight for the country's independence.

"Dr Nkrumah brought personal imprint on the character and pace of the country's independence, shaped the country's image and as well changed the fortunes of the African liberation movement".

Prof Sawyer noted that Dr Nkrumah was remembered by his personal traits and the nature and balance of social, political and economic and ideological qualities that transformed the country's socio-economic development.
He said Dr Nkrumah's legacy on infrastructural development cannot be overlooked including Tema Harbour, Akosombo Dam, universities and training colleges, agricultural sector, industrialization among others.

He disagrees with assertions that Dr Nkrumah did not win any elections, saying when he broke away from the United Gold Coast Convention (UGCC) and formed the Convention People's Party, he "won every single election he contested within two years".

Mr Kwesi Pratt, a renowned Journalist, urged Political parties and all to come together to stand against all those who are determined to rewrite the history of the country.

He explained that the 'Big Six' were leaders of the UGCC, who were detained by the colonial authorities in 1948 following disturbances leading to the killing of three World War II veterans.

"There 'was no big six in our history. We often make reference to the so called big six; what big six? They became big six not because they were the founders of the UGCC.

"They became the big six because they were the people who were arrested by the colonial authority and blamed for the 1948 riots," he added.