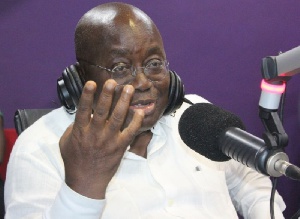 Tue, 19 Jan 2016 Source: Daily Guide
Free Senior High School (SHS) policy of the New Patriotic Party (NPP) which was spearheaded by Nana Addo Dankwa Akufo-Addo in the 2012 elections, has resurfaced in Kumasi.
With some few months for the country to go to the polls to elect the next president of Ghana, it is unclear whether the NPP leadership would maintain the Free SHS policy as its main campaign message for the upcoming election.

Most people talked about the Free SHS policy in the city during the party's recent fundraising event.

Some elderly women in the city propagated the Free SHS policy in Kumasi.

The women, who were wielding books and pens, were dressed in school uniforms in the city.

One of the women called Akua Anyamesem, 77, was seen in her school uniform during the NPP's fundraising event in Kumasi.

She thoroughly explained the benefits of the Free SHS policy to her audience who were beaming with smiles.
Speaking to DAILY GUIDE, the 77-year-old lady said she could not go to school when she was young because her parents were poor.

According to her, making education available to all was the surest way of bridging the gap between the rich and the poor.

In this regard, she praised Nana Akufo-Addo for his vision of implementing the Free SHS policy, saying Ghana badly needs the policy.

Madam Anyamesem said, "I shall still make noise about it for the NPP."

She was of the view that most people would vote for the NPP due to the free SHS policy during the upcoming presidential and parliamentary elections.
Source: Daily Guide