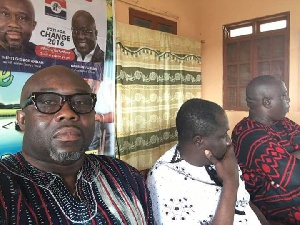 The 2016 New Patriotic Party Parliamentary Candidate for the Awutu Senya West Constituency in the central region Nenyi George Andah has awarded scholarship to 45 brilliant but needy students in Senya Beraku with full scholarship to attend 3-year SHS program at the campus of their choice.
The scholarship package includes tuition and boarding for each of the 45 students which was supported by the founder of ideal college Dr Essibu.

Over 300 students from within Senya participated in the process, with the 45 beneficiaries attaining the required marks to secure the scholarships.anda
Nenyi presented the sponsorship letters to the 45 beneficiaries at a brief ceremony held in Senya.

The beneficiaries expressed their gratitude and promised to learn hard and make good use of the scholarship granted them.