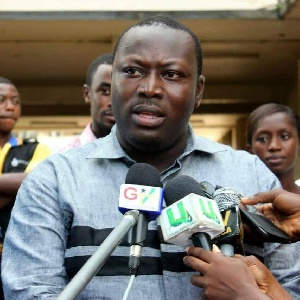 Fri, 26 Jan 2018 Source: Derrick Nii Armarh Tagoe
Former MCE of Akuapem North under the John Dramani Mahama administration has chided Nana Boakye, Deputy Director of the National Service Secretariat for what he called ignorantly proceeding to court on the 'Gitmo 2' without recourse to what went on in the decision to grant asylum to the two Yemeni Nationals.
Speaking on Peace FM's Kokrokoo show on Friday, Mr Opare Addo who is also aspiring to be the next National Youth Organiser of the National Democratic Congress (NDC) noted that, Nana Boakye's position on the issue smacks of ignorance and an attempt to score cheap political points.

"I am amazed that my brother here who is a lawyer holds this position on such an issue which has diplomatic implications. There are various levels of clearance for situations like this; government can't just reveal all details to the public albeit only what the public needs to know. Nana B knows this very well. His decision to go court must be applauded but the reason behind the case is mischievous," he said.

Making his submission on the show, the former MCE noted that the decision by the former administration to grant asylum to the Gitmo 2 must be commended as Ghana demonstrated a strong sense of goodwill with the United States of America, a vital Ally and partner.

He further argued that whilst he disagreed with the position of the Supreme Court, the court had the final say. According to him, the ruling of the court and the action taken thereafter by government further demonstrates the hypocrisy and insincerity of the NPP and Nana. He revealed that the ruling of the court gave the NPP government two options; to return the Gitmo 2 or refer to Parliament to ratify the status of the two.
The former MCE noted that, in sharp contrast to the known position of Nana B and the NPP, 'this government rather chose the latter; to legalise their stay in the country'. He questioned Nana B's position on the matter since his government has rather legalised the status of the otherwise illegal status of the two gentlemen.

Concluding his submission, Hon George Opare Addo revealed he still stands solidly behind President John Mahama's decision to grant asylum to Muhammad Bin Atef and Khalid Muhammad Salih al-Dhuby, two Yemeni Nationals who were detained in the dreaded Guantanamo Bay Maximum Security Prison.

"President Mahama's decision to accept the GITMO 2 into the country then was a good one and I fully stand by him. President Mahama didn't make every detail of the status of the GITMO 2 known because it was strictly a matter of national security and as citizens, we are sometimes better off not knowing every security detail about this country," he said.
Source: Derrick Nii Armarh Tagoe