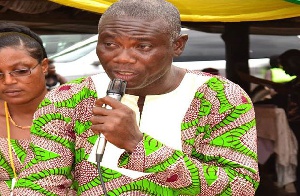 South Africa-based Ghanaian musician, George William Dickson, has declared his intention to contest the Agona West Constituency parliamentary seat as an independent candidate in the 2016 general election.
The president of the Musicians and Dancers Association of Ghana (MUDAG) expressed confidence in winning the parliamentary seat of the area.

According to him, even though both the New Patriotic Party (NPP) and National Democratic Congress (NDC) think the constituency is one of their surest bets, he is in the race to cause a big surprise to everyone.

His constituency members have declared their support for him, adding that they see him to be more experienced and deserving to represent Agona West in parliament than the two other candidates.

Mr Dickson, a former Central Regional Chairman of the Musicians Union Ghana (MUSIGA), said such show of support towards him informed his confidence of securing a famous and memorable win in the December 7 parliamentary election.

The aspiring MP for the Agona West Constituency hinted that despite the intimidation, nothing can stop him from contesting and winning the Agona West seat.
George Dickson has promised to work tirelessly to improve the living standards of the people in his constituency and musicians in general.

He also promised to change the plight of the people, including musicians in the constituency, adding that when elected as the MP for the constituency, he would make conscious efforts to create jobs for the people.

The celebrated music icon stated that the current state of the creative industry in Ghana needs the services of competent people to manage the industry in order to create job opportunities for the players in the industry.

George Dickson added that he is capable of bringing development that has eluded the area for a long time and advised other politicians, especially those who intend to contest the Agona West Constituency parliamentary seat, to conduct a campaign that would not divide the people.