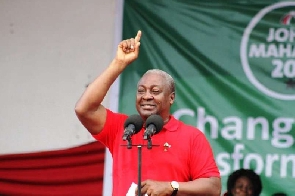 Thu, 30 Mar 2023 Source: GNA
Some National Democratic Congress (NDC) delegates in the Central Region have declared their full support for former President John Dramani Mahama, in the upcoming Presidential primaries of the party.
This was when the former President toured the region as part of his three-day campaign tour.

He visited seven constituencies on his first day including the Awutu Senya East Constituency, Awutu Senya West, Gomoa East, Effutu, Gomoa Central, Agona East and Agona West.

Speaking during the tour, Mr. Mahama pointed out why the NDC needed to return and govern the country in this crucial time when Ghana was in crises due to mismanagement of the economy by the New Patriotic Party (NPP) under the Nana Addo-Bawumia administration.

He said it was good the NDC lost the elections in 2020 because it had exposed the weaknesses of the NPP in governance.

According to him the NPP failed to abide by wise counsel when the NDC cautioned them to seek the International Monetary Fund for bailout after mismanaging the economy.
Mr. Mahama said, the NDC under the leadership of the Mills-Mahama administration brought major developments to constituencies including the Kasoa interchange, hospitals, road networks, supply of potable water, building of schools, among others.

While the NDC presided over these major developments, the Nana Addo-Bawumia resorted to sod-cutting ceremonies with majority of the projects abandoned.

He stated that Ghanaians were in a better position to attest to the difference between the NDC and the NPP in the governance of the country.

"Today, everywhere I go to, Ghanaians say that their lives were better compared to today. It is true Ghana was not heaven then, but Ghanaians were able to ply their trades and took care of themselves and their children, but today the country is in total mess."

He said despite the difficulties the country found itself, the government continuously ignored wise counsel and the state required an experienced person to run its affairs and not the time for experiment.
"NDC is the only alternative party to save the people from the current hardship they are going through. And so, the 2024 election is going to be a 'Do or Die' affair…and so we are going to march them boot for boot."

He said the NDC will not indulge in any election malpractice, however it would disallow any attempt by any party to do same in the upcoming elections adding that the party was ready to work with all stakeholders in the election processes to ensure free and fair elections.

He urged the delegates and party supporters to work hard and police the ballot on the election day until results were finally declared.
Source: GNA