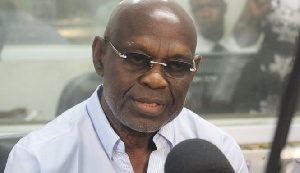 The practice, he said provided fertile grounds for sowing seeds of debilitating generational conflicts.
"The cycle of vengefulness and recriminations in our politics has and still dissect the nation and often sees contractors driving to ruing, that sees even public servants, more or less summarily dismissed for barely disguise political reasons" he lamented .

Prof Botchwey, Ghana's former and longest serving Finance Minister was speaking at the sixth John Evans Atta Mills Commemorative Lecture on Monday. The lecture was jointly organised by the University of Cape Coast (UCC), the Government of Ghana (GoG) and Ghana Institute of Management and Public Administration (GIMPA) in furtherance of Professor Mills' ideals and commitment to the advancement of law and governance in Ghana and across Africa.

Prof Botchwey consequently, charged the nation to move from the intense polarisation and begin to emphasis more on ethics to help sustain the legitimacy of democratic governance.

He was of the view that that achievement when chalked, would be a fitting tribute to the late President who sought to eliminate the style of politics that mistook power as an opportunity to reap vengeance.

The lecture attended by diplomats, present and former ministers of state, academics, political, traditional and religious leaders as well as the Mils Family, was on the theme ""Ethicality, Democracy and National development, the legacy of President Atta Mills".

Prof Botchwey reiterated calls to broaden the process of consultation over critical matters that affected the common good to significantly stem the tide of polarisation in the country.
He underscored the need for training in ethics in policy making, campaign strategies and messaging for other political actors and the media for better understanding of social theory and the rules of the country's social democracy.

The former Finance Minister praised the late Prof Mills whom he said was an embodiment of ethicality and spoke extensively about the need to put an end to the cycle of vengefulness and recriminations of political transitions in the country.

"His commitment to creating an atmosphere of inclusiveness, respect and courtesy in our national discourse and debate" he said.

"One can almost intuitively identify some of the components of ethicality that mark the man we are commemorating today. Those that readily come to mind include; his integrity, honesty, his transparency and open mindedness…

"…his commitment to responsibility and accountability of public officials, his impartiality in the management of conflicts, disputes, and allegations and counter allegations among appointees and institutions" he added

Prof Botchwey said it was Presidents Mills' natural inclination to ethical principles that gave him the supreme courage to put the interest of the people especially the middle to the lower rank of the civil servants above his personal popularity and that of his party to implement the single spine pay policy.