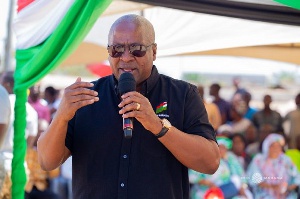 Former President of Ghana, John Dramani Mahama, has said Ghanaians are dying under the leadership of Nana Addo Dankwa Akufo-Addo.
Speaking to NDC delegates at Asante Akim Central Constituency, John Mahama stated that when the NDC was in government under his leadership, the NPP led by Akufo-Addo thought it was easy to govern.

He added, the way NPP was talking during his time as President, they appeared to know the job than him but look at the mess they have led us into.

"Even though an elected President has a four-year mandate, the NPP government with only two years in office has demonstrated that they don't know what they are doing. Farmers are sad, drivers are sad and galamseyers are also sad," Mr Mahama said with cheers from the crowd.

According to him, there must be regulations to ensure the way and manner small-scale operators work in the country.

"We were using the military in fighting galamsey but it didn't take us anywhere so we had to stop them. We decided to regulate them with some laws so the galamseyers can operate effectively," he added.
John Mahama pleaded with the Akufo-Addo government to bring back what he started and also asked that the government meet with all small-scale miners to seek their opinion so that the law can work effectively.

"Small Scale miners cannot work even with the license the government has issued to them. If the government doesn't implement those laws by 2020 then the next NDC government under my leadership will make sure that it works," Mr Mahama stressed.

The former President is in the Asante Region to interact with the delegates of his party to give him another mandate to lead the NDC into the 2020 general elections.

He is contesting with former Trades and Industries Minister, Ekwow Spio Gabrah, the Second Deputy Speaker of Parliament, Alban Bagbin, a former Vice-Chancellor of UPSA, Prof Joshua Alabi, former NHIS boss, Sylvester Mensah, Mr Goosie Tandoh among others.