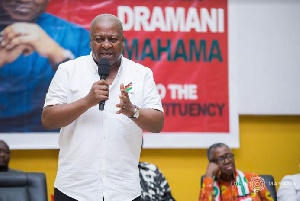 Wed, 9 Jan 2019 Source: Daniel Kaku
Former President, John Dramani Mahama says the hardship that Ghanaians are going through under Akufo-Addo government is beyond imagination, considering the lofty promises the President and the New Patriotic Party (NPP) made during the 2016 general elections.
He said the NPP created a false sense that it could out-perform the NDC in government but after winning the last elections, the policies of the government have resulted in untold hardship, with every sector of the economy taking a hit.

Addressing delegates of the National Democratic Congress(NDC) in the Jomoro, Constituency as part of his flagbearership campaign tour of the Western Region, Mr Mahama entreated President Akufo-Addo to listen to the cry and anguish of the people especially the good people of Jomoro he added.

He said the President should desist from saying that he would not be responding to presidential aspirants, adding that the aspirants are just carriers of messages of suffering Ghanaians.

"So he should listen before it is too late because Ghanaians are really suffering", he said.

Mr Mahama appealed to the Jomoro NDC delegates to vote massively for him in the upcoming flagbearership primaries to enable theNDC win back power come 2020 from the NPP government led by Nana Addo and the MP for the area Paul Essien.
He said when elected in 2020, he will work hard to provide jobs and reduce the high cost of living in the country.

Mahama urged NDC party to remain united in order to retain power come 2020, advising party folks to remain focus and put the party at heart and vote for him to save mother Ghana he told NDC delegates Jomoro.

Mr. Mahama is among other high profile aspirants within the NDC who have submitted nomination forms to contest including the former Chief Executive Officer (CEO) of the National Health Insurance Authority (NHIA), Sylvester Mensah, and Nadowli Kaleo MP, Alban Bagbin.

Other aspirants are Dr. Ekwow Spio Garbrah; a former Trade and Industry Minister; Former Vice Chancellor of the University for Professional Studies, Accra (UPSA), Prof. Joshua Alabi, Goosie Tanoh and Nurudeen Iddrisu.
Source: Daniel Kaku