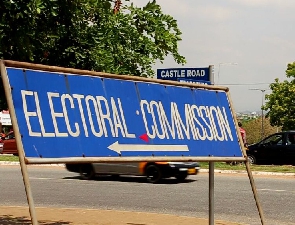 A pre-election survey conducted by the Centre for Democratic Development (CDD), Ghana has revealed that 73 per cent of expectant voters in the 2016 polls are confident the Electoral Commission (EC) is "well prepared" to oversee the December polls.
This means the EC's preparedness rating had increased by a significant 15 percentage points over the July survey figure of 58 per cent, the CDD added.

The confidence expressed in the election management body to hold a "free, fair and transparent" election, the CDD noted, had catapulted the EC's position from fifth to third on its list of most trusted institution to fulfil their mandate on Election Day.

The latest report is an update of an earlier one conducted in June which placed the EC behind the Armed Forces and the police respectively, who have maintained the topmost spots as institutions believed to be ready for the elections.

At a media engagement in Accra yesterday, a Senior Research Fellow at the CDD, Dr. Edem Selormey, said about 44 per cent of respondents, however, are of the view that it was "very or somewhat likely that the wrong vote tally would be announced."

With a sample size of 2680 people, the survey conducted between July and October, has a 54 and 46 urban and rural respondents respectively nationwide, and comes on the heels of court litigations between the EC and political parties a couple of weeks ago, which casted doubt over the preparedness of the commission to hold the elections on December 7.

"Nearly a third (31 per cent) deems it likely that their votes would not be counted, although close to two-thirds (64 per cent) do not share that fear" the Senior Researcher Fellow added.
In spite of this, Dr. Selormey said the majority of respondent's had given positive assessments of the activities the EC undertook to improve the credibility of the voters roll for the 2016 elections.

In the face of the confidence reposed in the commission, Dr. Selormey said the fear of wrong vote tallies being announced was worrying, and urged for concerted efforts between stakeholders so that that mistrust could be, addressed.

Dr. Selormey said "a strong majority of the electorate, eight in 10, say the presence of armed security personnel at polling stations on the Election Day would make them feel more secure."

According to the survey, eight in 10 Ghanaians believe the presence of armed security personnel at polling stations during the 2016 polls will make them feel "more secure" or "secure"

Dr. Selormey said, "it is therefore crucial that their responses are measured and not overtly politicised because once violence breaks out, it can grow exponentially and may be difficult to contain."