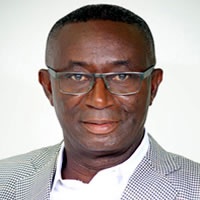 Member of Parliament for Asante Akyem North, Hon. Andy Appiah Kubi has called on Ghanaians to pray against a possible comeback of former president Mahama should he decide to run in the 2020 general elections.
According to him, the former president has a track record of showing incompetence and a comeback from him will run down all the developmental policies the Nana Addo led government has implemented.

He explained that even though president Mahama may not have been directly involved in many of the numerous corruption scandals that occurred in his government, he needs to be held accountable because Ghanaians entrusted him with a job of appointing competent and trusted people who could perform and he failed.

Speaking on Agoo TV's Yensempa Show, the legislator called on politicians to say the truth rather than their usual lies. According to him, political appointees must desist from occupying offices they know within their hearts they cannot perform.
"We must speak the truth as Ghanaians in order for the country to develop. If I am given a role that I cannot perform, I have to tell the truth. Mahama should be held responsible for all the actions of his appointees because he was supposed to check their competence level and he failed. If Mahama says he is coming again, Ghanaians must pray against it," he told Bonohene Baffour Awuah.

His comments follow a revelation that the country spends a whopping $11.5 million per month on the Ameri power deal causing a debt of $218 million for the past 18 months since it was signed by the erstwhile administration.

According to the Akyem North MP, No person within his right mind will sign such a deal that will cause the country to sink in debt. He explained that such a deal was signed because of incompetence in the then Administration.