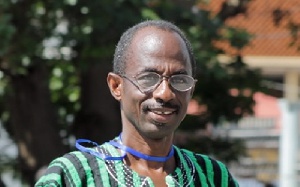 The General Secretary of the opposition National Democratic Congress, NDC. Asiedu Nketiah, has said he has no regrets laying blames at the doorsteps of President Nana Addo Dankwa Akufo-Addo for the murder of Major Maxwell Mahama, as scores of Ghanaians and young soldiers appreciate his comments.
According to the NDC scribe, many Ghanaians are hailing him for speaking their minds to the Akufo-Addo's government, insisting that he still stands by his earlier comment that President Akufo-Addo should be blamed for the death of Major Maxwell Adam Mahama.

Asiedu Nketia, while speaking on Okay FM's Morning Show, said: "Because of this, I have issued a statement that I still stand by what I said that Akufo-Addo should be blamed for the death of Major Mahama. I am saying that when a government allows vigilante groups to vandalise state properties and attack state officials without condemnation to the extent that some NPP bigwigs came out to support the action of Delta Force in Kumasi, then we should blame Akufo-Addo if people take the law into their hands by killing Major Mahama."

The NDC scribe also insisted that things will get out of hand if the government cannot control the lawlessness going on in the country, noting that the Boko Haram menace in Northern Nigeria and the Rwandan Genocide started with similar vigilante groups.
"In view of this, I added that the government must protect its citizens and if the government cannot protect us, it is better the President steps down for another government to take over," he said.

Continuing, Asiedu Nketiah accused New Patriotic Party, NPP sympathisers of being behind the fake apology letter he was alleged to have written to the President because they were uncomfortable with the truth.

"It would have been embarrassing for me to apologise for speaking the truth. The reports I have received show that many people appreciate and support what I said. Some people don't have the boldness to speak the truth and so they appreciate what I said including some of the young soldiers," he asserted.