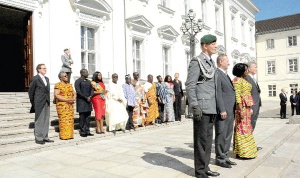 Ghana's Ambassador to the Federal Republic of Germany, Mrs Gina Ama Blay, has presented her Letters of Credence to the German President, Dr Frank-Walter Steinmeier, at a short but colorful ceremony in Berlin.
At a cocktail reception to mark the occasion, she expressed appreciation to her family, friends and close associates for the support she had received since her appointment.

Mrs Blay said her commencement of work presented yet another fine opportunity to expand the frontiers of "our beloved relations with Germany".

"This comes against the backdrop of successful general election in Ghana on December 7, 2016; the seventh of such since our return to multi-party constitutional democracy in 1992 and the subsequent swearing-in of His Excellency Nana Addo Dankwa Akufo-Addo as the new President of the Republic of Ghana on January 7, 2017," she said.

60 years on

Mrs Blay explained that the event was also taking place at a time when "we are observing a year-long celebration of the 60th Anniversary of Ghana's

Independence"
"Sixty years of nationhood is a significant milestone in the life of every people. A lot has happened in Ghana over this period. We have had our fair share of challenges but also our good moments.

In all this, we take pride in what we have achieved through our collective efforts and are inspired by the increasing enthusiasm of our people, especially the youth of our country to achieve even more as a nation. We are also fortunate to have been able to nurture mutually beneficial relations with friends and partners such as Germany throughout this journey," Mrs Blay explained.

She noted that Ghana still faced huge developmental deficit and gaps which the current government was working assiduously to bridge.

Deepening ties

"I am looking forward to giving added impetus to existing areas of cooperation between our two countries such as entrepreneurial and skills development and the promotion of vocational and technical education, drawing from the German experience where appropriate.

"Also of great importance will be the promotion of German investments in Ghana, especially from the Small and Medium-Scale Enterprises (SMEs). The flagship policies and programmes of President Akufo-Addo's government, including the "One-District, One-Factory"; "Planting for Food and Jobs"; and the transformation of the country's business environment to make it the most business-friendly country in Africa should stimulate more interests of the German business community in Ghana," Mrs Blay said.