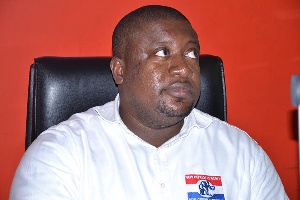 One of the plaintiffs who filed a suit at the Supreme Court challenging the decision of the thenPresident John Dramani Mahama to host 2 Guantanamo Bay detainees in Ghana, is demanding that he apologise to Ghanaians for acting unconstitutionally.
According to Henry Nana Boakye, who is the Deputy Executive Director of National Service Scheme, former president ought to apologise to Ghanaians because he disrespected the Constitution of the Republic of Ghana.

"Mr John Mahama should apologise to Ghanaians that what he did was wrong," he stated.

His call follows Supreme Court ruling on Thursday that the then President erred by signing an agreement with US government without recourse to the provisions of Article 75 of the 1992 constitution.

The apex on Thursday ordered the current government to send the agreement between Ghana and US to parliament for ratification or send the 2 Gitmo detainees back to the US in three months.

The two detainees, Mahmud Umar Muhammad Bin Atef and Khalid Muhammad Salih Al-Dhuby, who was in detention for 14 years after being linked with terrorist group Al-Qaeda, were brought to Ghana in 2016, for a period, after which they were expected to be reintegrated in their home countries.

Henry Nana Boakye and Margaret Bamful sued the Attorney General and Minister of Justice, together with the Minister of Interior, accusing then-President John Mahama of illegally bringing in the two former Gitmo detainees, without recourse to the laws of the land.
The plaintiffs were seeking, among other reliefs, a "declaration that on a true and proper interpretation of Article 75 of the 1992 Constitution of Ghana, the President of the Republic of Ghana acted unconstitutionally by agreeing to the transfer of Mahmud Umar Muhammad Bin Atef and Khalid Muhammad Salih Al-Dhuby."

Speaking on Oman FM's political analysis programme "Boiling Point" Nana B as he is affectionately called welcomed the decision of the court.

"This is what we kept saying, but the NDC mounted a spirited defence of what President Mahama did. Thankfully, the Supreme Court has spoken and we're very grateful that the Constitution has been interpreted," he said.

He accused the former president and his party for exhibiting impunity while in government.

He explained that the former president has been fortunate that he is out of power because "this ruling would have been the basis for his impeachment."