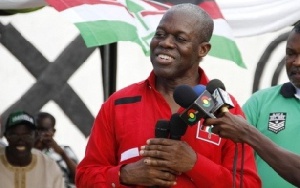 Wed, 21 Oct 2015 Source: Today Newspaper
Ga-Dangme Youth have joined the chorus urging President John Dramani Mahama and the governing National Democratic Congress (NDC) to dump Paa Kwesi Amissah Arthur as his running mate for the 2016 elections.
Accordingly, they have called for the selection of a Ga-Dangme person to partner candidate John Dramani Mahama for the 2016 polls.

In a press statement issued yesterday and copied to Today, the Ga-Dangme Youth Association observed that though President Dramani Mahama has not indicated he will change Mr. Amissah-Arthur, and with the latter also not giving any indication of unlacing his boots after 2016, " trend (of events) and the body language of some rank-and-file of government officials point to unspoken unanimity that the president must choose a very strategic personality to partner him if the party is looking beyond 2016."

To this end, the Ga-Dangme Youth urged the NDC leadership to focus their search and sight in the Greater Accra region for a suitable partner for Mr. Mahama.

The statement said their appeal was not a request for compensation or appeasement for the significant support the NDC enjoys from Ga Dangme people, but were "making a legitimate claim to the leadership ticket."

"Ga-Dangmes have illustrious sons and daughters that are well cut-out for the position of running mate and if the president and the NDC at large consent to our proposal, our respected countrymen and women from Central, Western, Volta, Northern, Ashanti, Eastern, Upper East and Upper West will all agree and applaud a legitimate choice going forward," the Ga-Dangme Youth averred.

The NDC since 1992 has presented candidates for six consecutive elections with none being a Ga-Dangme
In 1992 Rawlings/Ackaah ticket represented the NDC, Rawlings/Atta Mills (1996) Atta Mills/Amidu (2000) Atta Mills/Mumuni(2004), Atta Mills/Mahama (2008) and now the Mahama/Amissah-Arthur ticket(2012).

"We are treading cautiously not to be tagged as engaging in tribal politics, but permit us to ask the NDC party also if 'there are no qualified Ga Dangmes in their party to be considered for the Veep position at least?" the statement quizzed.

The statement recalled the indignation they expressed with regard to the New Patriotic Party (NPP) "when some of the NPP members publicly stated that no Ga Dangme is qualified to be nominated to partner their flag-bearer."

That comment, according to the youth, NPP later tried to massage by endorsing affirmative stance for Ga indigenes contesting parliamentary seats in Ga areas but again, they had to bow to pressure to abandon that idea.

They said they deem it as a matter of principle to draw attention to some simmering agitation about perceived gradual sidelining, relegation or abandonment of Ga Dangmes after electoral victories as these murmurings were fast gaining currency.
Source: Today Newspaper