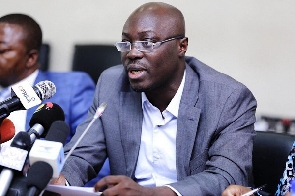 The Minority in parliament is claiming that the government is hiding behind the outbreak of the coronavirus to spend recklessly.
Spokesperson on Finance for the Minority Mr. Cassiel Ato Forson says the Minority will resist any attempt by the government to spend recklessly because they think that the implication on the economy will be severe.

Addressing a press conference after the Finance Minister Ken Ofori-Atta had presented a report before the House on the limit of borrowing of the government under sub-section (6) of section 30 of the Bank of Ghana Act, 2002 (Act 612) in the novel coronavirus (COVID-) emergency, the former deputy finance minister said the government is only doing this to finance their 2020 campaign.

The Bank of Ghana (BoG) has released the first tranche of GH¢5.5 billion of the GH¢10 billion emergency facility the government is seeking to support the national response to the fight the coronavirus disease.

The Finance Minister told parliamentarians that, the release, was consistent with global policy responses of central banks with large scale asset purchases to provide support to manage the pandemic.

But the Ranking Member on the Finance Committee, Mr Cassiel Ato Forson, is alleging that the government is seeking the funds from the central bank just to use the money to finance the elections expenditures of the New Patriotic Party (NPP).
The move he lamented will lead to inflation and affect every Ghanaian.

The government he explained should have done reprogramming of their budget as being done by other countries.

The president he opined should have also reduced his number of ministers as part of efforts to deal with the impact of the coronavirus on the economy.