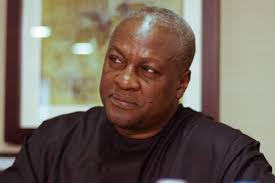 Mon, 22 Aug 2016 Source: GNA
President John Mahama, has said the Western Region had made enormous contributions towards national development and Government would reciprocate by providing their fair share of the national cake.
He said the huge investments in infrastructure in various parts of the Region were ample demonstration of Government's determination to transform the fortunes of the people for the better.

President Mahama said this at a durbar of chiefs and people of Lower Dixcove Traditional Area at the Annual Kundum Festival on Saturday.

The event also marked the Silver Jubilee Celebration of Nana Kwesi Agyeman IX, the Paramount Chief of the area, which was held under the theme: "Celebrating 25 years of Sustainable Development through Peaceful and Selfless Traditional Leadership".

President Mahama said road networks in the traditional area would be tackled in earnest comprising the old Busua/Dixcove and Sankore/Cape-Three-Point roads as well as other inaccessible road networks.

He said the ruling NDC administration has supported 123 schools from the basic to the tertiary levels with various infrastructure and logistics and this has enhanced teaching and learning.
President Mahama said Government has also introduced various apprenticeship modules under the Youth Employment Programme, in order to equip the youth with employable skills and make them self-reliant and financially-independent.

He said the newly commissioned Tweneboa, Enyenra and Ntomme (TEN) oilfield had 300 million standard cubic feet of gas reserves which would serve as power-base for addressing the country's power challenges and ensuring energy security for the country.

President Mahama urged the youth to acquire employable skills in the petroleum industry that would enhance their prospects of securing jobs with the oil and gas companies.

He said Government has increased the producer price of cocoa and provided other interventions to cocoa farmers that would increase the country's cocoa production in the ensuing years.

The President said entreated Ghanaians to conduct themselves decently in the upcoming elections and exercise their franchise in the December 7 polls, in order to choose a leader that would seek the welfare of the citizenry.
Nana Kwesi Agyeman IX, the Paramount Chief of Dixcove and Acting President of the Western Regional House of Chiefs, advised fisher folks against use of prohibited chemicals and illegal nets for fishing.

He expressed unhappiness with the bad road networks in the area and appealed to the government to urgently intervene so as to improve the socio-economic activities in the area.

The Paramount Chief appealed for logistical support to the forest guards of the Forestry Commission, in order to curb the illegal timber logging concern.

The Kundum Festival is celebrated by the Ahantas and Nzemas in the Western Region as well as some communities in neighbouring La Cote d'Ivoire between July and December every year, to thank the gods for abundant harvest and prosperity.
Source: GNA