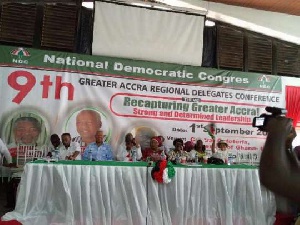 The National Democratic Congress (NDC) ninth Greater Accra Regional Delegates Conference is underway at the Central Cafeteria of the University of Ghana, Legon, Accra.
Over one thousand delegates have converged at the venue to elect regional officers, who would steer affairs of the Party for the next four years.

In all, 76 candidates are vying for the various regional officers' portfolios.

Candidates contesting for the Regional Chairmanship slot in order of their appearance on the ballot paper include; Mr Daniel Amartey Mensah, Alhaji Yahaya Kundow, Nii Emmanuel Ashie-Moore and Mr Kobina Ade Coker.

The Vice Chairmanship slots include; Mr George Tetteh Wayoe, Mr Billey M. Tahiru, Madam Gifty Emefa Soka Nartey and Abdul Basit Mohammed.

The rest are; Mr Ibrahim Jajah, Mr William Vinyo, Mr Mohammed Bashiru Nii Alema and Mr Daniel Rex Wussah.
Contestants for the Regional Secretary are; Mr Victor Abdul Satarh Quarshie Adonoo, Mr Theophilus Tetteh Chaie, Mr Aristo Nii Aryee and Madam Lois A. K. Tettey.

In the race for the Deputy Secretary are; Mr Derek Rakim, Mr Emmanuel Azubila Salam, Mr Baba Abu Abdulai, Mr Mac Daniel Adodoo, Madam Augustine Nii Amoah Nai and Madam Patricia Naa Akuyea Addy.

Those in the Organisership race include; Mr Derrick Myers, Mr Maxwell Ofotsu Amdvor, Mr Humphrey Tetteh Mensah and Mr Anthony Nukpenu.

The Deputy Organiser contestants are Mr Gambo Abdulai Zam-Atu, Mr Habel Kwesi Adjei, Mr Dickson Mawuko Lekey and Mr Joshua Bortey Alabi.

The rest are; Mr Isaac Mensah, Mr Gabriel Lucky Ocansey, Mr Jonas Jesse Narh and Mr Richard Eyram Dogbe.
The candidates for Treasurer include; Mr Solomon Nii Aflah Barnor, Madam Regina Samiratu Akunkel, Alhaji Seidu Haruna and Rabbon Kwashie Dodoo.

The Deputy Treasurer Candidates are; Nubyl Kakra Vanlare, Mr Mohammed Morgan, Mr Abagna Raphael Muniru, Madam Mercy Akromah and Mr John Nurudeen.

For the Communications Officer portfolio we have Mr Gabby Asumin, Mr Jerry Johnson, Mr Samuel Ablordepey and Mr Latif Osman.

Candidates for the Deputy Communications Officer portfolio are; Nana Adubea Koranteng, Mr Isaac Nii Otoo Lartey, Mr Tony Addison Dodoo, Mr Thomas Addy Godfred and Spinnoza K. A. Aboah.

Others are Mr Gideon Tettey Tetteh, Mr Frank W. Nii Dua, Mr Simon Kweku Tetteh, Mr Maurice D. K. Mawugbe and Mr George Acheampong.
Mr Mohammed Ashkar and Mr Ismaila Horoya are in the race for the Zongo Caucus Coordinator.

Early on in the week, the election of the Regional Youth Executive Committee, took place on Monday, August 27.

Whilst that of the Regional Women's Wing took place at Tradefair Centre in Accra on August 29.