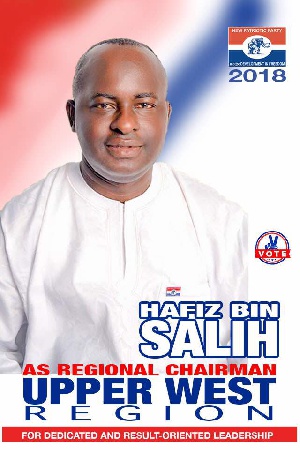 The Second vice chairman and Regional Secretary of the ruling New Patriotic Party of the Upper West Region, Hafiz Bin Salih has declared his intention to contest the regional chairmanship position of the party in the pending internal restructuring process of the party in the Upper West Region .
Below is Hafiz Bin Salih's statement

In the 2016 general elections the good people of Ghana repaid the efforts of the New Patriotic Party with a decisive and historic victory. In the Upper West Region, our great party won an unprecedented five parliamentary seats. These gains resulted from good leadership but will require better leadership to consolidate and build on.

As the Regional 1st Vice Chairman, Regional Secretary and a member of the Regional Campaign Team, I led by example. I joined the grassroots of our party in our political trenches across the Upper West Region to work tirelessly to help the party succeed.
My interactions with the rank and file of our party across the region before, during and after the 2016 elections have consistently revealed one theme and one theme only- Hafis Bin Salih is the man best placed to lead the NPP to capture the Upper West Region from the NDC.

Having listened to the rank and file of the great NPP, having consulted party elders and members across the Upper West Region, having conferred with my own family and friends and having done a lot of soul-searching, I am convinced that it is time to offer to serve the party in the capacity of Regional Chairman.

With the utmost humility, I, Hafis Bin Salih, hereby announce that I shall contest for the position of NPP Upper West Regional Chairman when our party opens nominations"