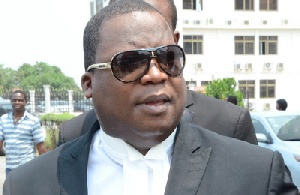 A New Patriotic Party (NPP) stalwart, Professor Baah Acheamfuor has expressed his satisfaction and immense joy over the disqualification of Lawyer Philip Addison from possibly representing the NPP in the 2020 parliamentary elections.
According to the "professor in politics," Philip Addison has ultimately reaped the seeds he sowed some years back.

Speaking on Happy98.9FM's Epa Hoa Daben, the NPP personality stated, " I am really glad and thank my God for the disqualification of Philip Addison. The same hand that worked against Nii Noi Nortey is the same hand working against him."

On his authority, the former chairman of the Klottey Korley constituency, Nii Noi was disqualified from representing the NPP in the 2016 parliamentary elections for the benefit of Philip Addison which he woefully lost. And that he [Philip Addison] is facing the same plight.

"Someone who had been a grassroot for the party was disqualified for you.
He [Philip] destroyed Klottey Korley and now he wants to move away from the constituency. It is only in the history of Philip Addison that an NPP presidential aspirant has lost the Klottey Korle seat," he stated.

Lawyer Philip Addison was disqualified from contesting the Akuapem North seat on the ticket of the ruling New Patriotic Party (NPP).

Addison, who rose to fame during the 2012 election petition hearing at the Supreme Court, was hoping to unseat incumbent and deputy Minister for Information Nana Ama Dokua Asiamah Adjei.

Addison, who lost the Korle Klottey seat in the Greater Accra region during the 2016 elections, was disqualified from contesting the Akuapem North seat because he "hasn't nurtured the party at the constituency".