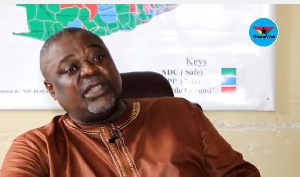 Former Deputy Secretary of the National Democratic Congress (NDC), Koku Anyidoho has debunked a report by mynewsgh.com which stated that the party betrayed him during his detention by the Bureau of National Investigations (BNI) last year.
The report indicated that Mr Anyidoho's detention by the BNI was a "cross he carried for NDC" and having learnt his lesson, vowed not to kotow the party again.

But the Chief Executive Officer of the Atta Mills Institute has called on all to disregard the news publication with the headline 'NDC betrayed me – Koku Anyidoho speaks'.

Taking to his facebook page to debunk the earlier report, Mr Anyidoho said " this is an extremely fake headline and badly written story which must be treated with contempt that it deserves. I am on record to have expressed my deepest appreciation to the NDC and all leaders including former President Mahama who flew down from Sierra Leone to also solidarise with me".

It would be recalled that the BNI detained Koku Anyidoho for two days over comments government described as "treasonable."

He was arrested at the Ghana International Press Centre where the NDC were planning a demonstration against the Akufo-Addo government for ratifying a controversial Ghana-US Military Cooperation agreement.
In an interview on Happy FM, Mr Anyidoho stated that Akufo-Addo behaving like his father and will be overthrown in a civil revolt which will begin soon.

"On January 13, 1972, a certain Col. Ignatius Kutu Acheampong led a movement that removed the Progress Party from power. Busia was the Prime Minister and Akufo-Addo's father was a ceremonial president. Somebody should tell Nana Akufo-Addo that history has a very interesting way of repeating itself. There'll be a civil revolt," Mr Anyidoho said.

His comment was condemned by political commentators.

About 20 heavily armed police personnel besieged the International Press Centre and arrested Koku Anyidoho leading to his detention, charge and later release.