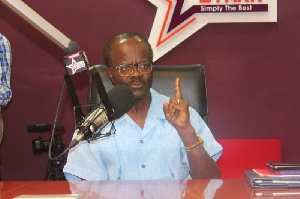 Business mogul Dr Papa Kwesi Nduom has debunked claims it is a must for employees of his chain of companies to be card bearing members of his Progressive People's Party (PPP).
Dr. Nduom, whose 60 companies boast of "5000 direct employees", noted he employs based on merit and will always want professionalism to supersede partisan politics when it comes to job placements.

"Nobody comes to work and they are asked which party do you support," Dr Nduom, who is the flagbearer of the PPP told host of Starr Chat, Bola Ray on Wednesday. "It can't be because we want the best."

However, the chairman of Groupe Nduom said his workers are free to buy into the ideologies of his party going into the 2016 elections.

"When that person comes in and enjoys what we have and shares in our philosophy then it is up to them," Dr Nduom stated.
Nonetheless, the former minister under the Kufuor administer served notice that "it's not a good habit for somebody to stand up in my company to say I support JDM."

He was optimistic he will win the 2016 general elections although he believes it will go into a run-off.

Groupe Nduom has business relationships in Liberia, Nigeria, Togo, the United Kingdom and the USA.

Groupe Nduom brands have been in existence over the past 25 years. It operates community libraries, the Monica Yorke School, Elmina Sharks Football Club, the Nduom Foundation and supports many social programmes.