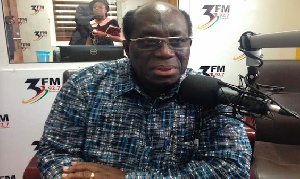 Former Minister of State, Dr Richard Anane, has stated he doesn't need any government or ministerial appointment before he could help President Nana Akufo-Addo and his New Patriotic Party administration to succeed.
He admitted although he has a big role to play in ensuring that the current NPP government succeeds in its governance of the country, "I don't need to be in a position to be able to do it".

Speaking on a wide range of issues including the road sector and the National Health insurance Scheme on 3FM's Sunrise morning show, Dr. Anane who served in the John Kufuor government said there are ways he could help Nana Akufo-Addo to succeed. "…There are so many ways of getting things done.

It's not about what position you hold," he said Wednesday in response to a question by the host of the show, Winston Amoah, as to what role he's playing in the current administration.
Dr. Anane who once served as Minister for Roads and Highways and also Minister of Health said having had the privilege as one of the youngest people in the formation of the NPP, he would not do all his best to ensure the party gets better by succeeding in its governance of the country.

In his estimation, it doesn't take a ministerial appointment whatsoever to be able to do that, saying, "So anything that must be done to make sure my party gets better I will make sure I do, I don't have to occupy any particular role to be able to do it. It's about my country."