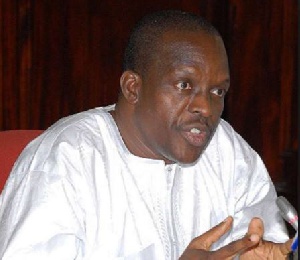 Second Deputy Speaker of Parliament, Alban Bagbin, says he is at a loss as far as the newly adopted double track system for the Free Senior High School programme is concerned.
The Nadowli Kaleo Member of Parliament (MP) told TV3, little has been provided on the new system to give a clearer understanding of the system.

"I don't even understand it, I'm just like some of the stakeholders, we have heard of the double track system and that it is being implemented in other countries in Africa. . . ", he said.

Government announced that its Free Senior High School policy would run on a new system from September this year to create room for more students to be admitted using the available educational facility.

The policy is expected to convert the senior high school calendar into a semester system.

President Akufo-Addo noted the Dual Intake system is not an invention but an adoption, which has worked in other countries including the United States.


Many, including some educationists and key members of the National Democratic Congress have raised concerns about the new system, which they say, will bring the country back to a shift system.

For the second speaker of parliament, there needed to have been a broader consultation on the challenge, rather than adopting a system which some stakeholders do not understand.

"And the stakeholders must make and buy in and accept that that policy will inure to the benefit of all, then they can then commit themselves to the implementation of the policy", Mr. Bagbin said.

"It is important we bring in all the other stakeholders of education. If the religious bodies are interested in running their schools, managing them, why not?", he added



He noted that the issue of quality education is not only the question of infrastructure but more of human resource. He argued, a well motivated human resource can deliver the desired quality regardless the state of infrastructure.
"If you're able to take care of that human resource, if you give your children to them to even teach under trees, they can still produce quality human resource", he noted.

Similarly, the Deputy Minority Whip, Ahmed Ibrahim, observes that the Akufo-Addo-led government is playing propaganda with the educational system.



He reiterates the position of Alban Bagbin that government should hand over mission schools back to the missions if it cannot manage them.

"If government knows very well that it cannot continue with the educational system government should hand them [mission schools] over back to the mission"