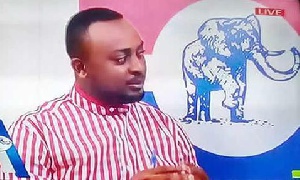 Deputy National Communications Officer on the ticket of the National Patriotic Party [NPP], Ekow Vincent Asefuah has described members of the largest opposition party as persons who do not learn from their mistakes.
Rather they keep adding to their numerous wrong doings claiming and compelling others to take them as rights or privileges.

"I get amazed when I come across members of the NDC especially their communicators expressing their views or making comments on subject matters to be discussed as if nothing has happened to them. Indeed I never believed they [NDC's] will keep talking the same way that led to their defeat", he said.
Speaking on UTV's 'Adekye Nsroma' programme, Mr. Asefuah indicated "I see them to still be in the dream that led to their defeat because you will never meet them speaking on point to issues being discussed on our various political platforms.

All they are good at doing is to meander the story on board to suit their taste of discussion and not of the listeners or the best of the state".