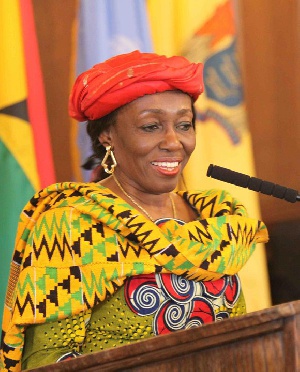 Former first lady, Nana Konadu Agyemang Rawlings has denied neither selling off property of the 31st December Women's Movement nor squandering its cash.
She has challenged persons who are accusing her of selling off property of the movement and using the accrued cash to buy textiles for "Kaba and slit" to point at specific properties that have been sold off or forever remain mute.

"She was the executive director and was not coming for meetings and when we tried expelling her she took the matter to court and lost. When did Aba Edusah realize that property of the movement were sold and used for "Kaba and Slit"? Has she accounted for the money in her possession? Most of the property was taken away by National Democratic Congress (NDC) members and others taken over by some district assemblies because of improper management" Charles Opoku National Deputy Chairman of Friends of Nana Konadu Agyemang Rawalings (FONKAR) revealed.

He questioned the locus of Aba Edusah in the 31st DWM who is no longer a member of the association because she abandoned it 10 years ago and has not played any active role in its management daring her to take whatever matter she has to court if she desires.

Addressing a press conference in Accra on the sidelines of a donation to Osu Children's home, Central Regional Organizer of the movement and former Chief Executive of Abura Asebu Kwamankese District Assembly, Aba Edusah, accused Nana Konadu of siphoning the movement's funds.
"It has come to our attention that the audited accounts are neither up to date nor filed at the Registrar of Companies. That we have cause to believe that huge sums of monies have been dissipated and assets sold from the accounts of 31st DWM by Dr. Mrs. Nana Konadu Agyeman Rawlings without following proper internal processes," she alleged.

She explained that in line with the movement's regulations, "audited accounts showing expenditures etc. must be submitted to the National Executive Committee and Congress for study and approvals. We the members of the 31st December Women's Movement make the following statement."

According Aba Edusah, though the movement's regulations allow all officers to hold office for a period of five years and may be eligible for re-election for at least two consecutive terms for the same position, the NDC founder's wife has since 1992 "held herself out as President of the Movement (in total contravention of the stipulated five year- term) and has not called for a congress as per the regulations of the Movement."