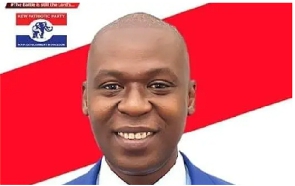 The Municipal Chief Executive(MCE) of Cape Coast Municipal Assembly, Ernest Arthur has promised to correct all the errors that resulted in his defeat at the 2020 parliamentary contest.
He has promised an act of revenge signally the incumbent Member of Parliament (MP) for the area, Kwaku Ricketts-Hagan to start preparing his handing over noted ahead of the 2024 general elections should delegates give him the nod in the upcoming New Patriotic Party (NPP) parliamentary primaries.

"If the delegates give me the chance to lead the party ahead of the 2024 parliamentary elections, I will unseat Kwaku Ricketts-Hagan" Mr Arthur vowed.

Addressing the media after filing his nomination said the two terms incumbent MP, Ricketts-Hagan does not deserve another term because has disappointed the constituents.

Ernest Arthur, who is the first aspirant to pick and submit his nomination forms added "A journey of a thousand miles begins with the first step so it's very necessary to take such a step by submitting my nomination forms to contest for the parliamentary primaries".
According to the MCE, his earlier submission of forms would help him to do more work on grounds to win the seat this time around for his party, reiterating he is working tirelessly to correct every error that resulted in his loss in the 2020 parliamentary elections.

He used the opportunity to call for unity prior to, during and after the parliamentary primaries to enable the party to win the Cape Coast South Constituency seat from the NDC.

"As a Mayor for Cape Coast Municipal Assembly, I have released MPs' common fund for the two main MPs in both Cape Coast North and South constituency yet the constituents cannot point out one single project they have used their Common fund for. We all know our incumbent is not working towards accounting to the people of Cape Coast so we are appealing to him to step aside for me to take over and I believed I will surely sworn in as MP for Cape Coast South after the general elections", he expressed confidence.