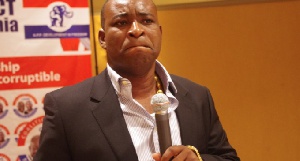 Since the Asawase seat was created prior to the Ghanaian parliamentary election in 2004, it has been held by the National Democratic Congress (NDC) till date.
But a different story would soon be told as the Ashanti Regional Chairman of the New Patriotic Party, Mr. Bernard Antwi Boasiako, has hinted he has plans in place to annex the seat from the NDC for his party.

In an interview with Peacefmonline.com, Mr. Bernard Antwi Boasiako alias Chairman Wontumi, stated that "I will flush Mohammed Muntaka Mubarak out from parliament like toilet".

In his view, the current MP for the area doesn't have a good record that bodes well for him for him to be retained in parliament.

"Do you remember Muntaka very well? If you don't then I would want to tell you about this corrupt man. When he was the Minister of Youth and Sports, he did several bad things that can only be stored in sewage".

"He is so corrupt and the time has come for him to be removed from office", Chairman Wontumi observed.
As former minister, Muntaka was compelled to resign less than three months after he was sworn in, following serious questions about his moral life, part of which cost the state some financial loss.

He appeared before the Commission on Human Rights and Administrative Justice (CHRAJ) over the 'pampers and khebeb' scandal.

He was alleged to have blown over GHC16.640 of the taxpayers' sweat on his child's pampers, food, oil and a host of other fleeting desires. Aside this, he was said to have also ordered for the release of over GHC1.4 million to the Sports Council without the approval of the Chief of Staff.

Hon Muntaka's history in office as minister, makes the Ashanti Regional Chairman of the NPP believe that a competent MP with integrity must represent the people of Asawase in parliament.