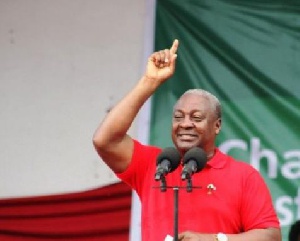 President John Mahama has said although the Central Region juggles support between the two main political parties every eight years – a trend that suggests the opposition New Patriotic Party will be having its turn of support from the region in this year's general elections – he believes he will win the region.
The governing National Democratic Congress (NDC) won the swing region in the 1992 and 1996 elections with Mr Jerry John Rawlings as its presidential candidate. The New Patriotic Party (NPP) won the region in 2000 and 2004 with Mr John Kufuor as candidate. The NDC again won the region in 2008 with Prof John Mills as candidate and in 2012 with Mr Mahama as candidate following the death of President Mills.

Confronting the trend on Metro TV's Good Evening Ghana programme hosted by Paul Adom-Otchere, Mr Mahama, who is running for his second term, said on Tuesday, 6 September that the swing factor in the Central Region has more to do with the presidential candidate than the political party on which the candidate runs.
With that argument, Mr Mahama said he is certain he will also enjoy eight years of support from the region just as Mr Rawlings and Mr Kufuor did and Prof Mills would have, had he been alive to go for a second term.

"With trend analysis, it depends on the factor that you're looking at and I think that you're looking at the wrong factor. You're using the political party. I think it's more of the presidential candidate. … In 1992, 1996, they voted for Rawlings, in 2000 and 2004 they voted for President Kufuor, they voted for President Mills in 2008 but unfortunately President Mills did not go for a second term, then they voted for me in 2012, and, so, if they are doing twice for each candidate, then it means in 2016 they'll give me my second chance. So, if you do that trend analysis based on presidential candidacy, then Central Region is going to vote for me in 2016," Mr Mahama analysed.