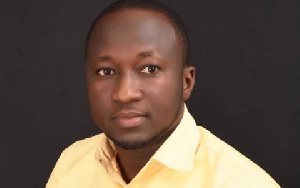 Eastern Regional Secretary Aspirant of the main opposition National Democratic Congress (NDC), Baba Jamal Konneh, has expressed optimism of winning the poll.
Konneh said he was diligent as the Eastern Regional Communications Director, and, therefore, he will succeed as Regional Secretary and win more votes for the NDC in the 2020 general elections.

In a statement, he said: "My opponent taking glory of my achievements is like the NPP stealing President Mahama's projects. Like the NPP, my opponent is taking glory of my achievements at the communication outfit of the NDC in the Eastern Region through the backdoor. But I thank God for using my opponent to tout some of my achievements at the communications outfit. I personally lobbied for funds and resources for all communication workshops and programmes. Some of them were channeled through him as a Regional Secretary per party norms.

"Under my watch as a communication officer, all communicators and serial callers were given several training; and gadgets were provided to them using my lobbying skills as a leader. I wish my opponent will talk about party offices he promised to build and furnish across the region when he was seeking for votes to become Regional Secretary in 2014. As it stands now, most constituencies are either having no offices or are being evicted from their offices."

He added: "If there were no achievements at the communications outfit, I would have been the one on the chopping board, but today my opponent is taking glory of my achievements like Nana Akufo-Addo and the NPP telling president Mahama he did nothing but keep on stealing president Mahama's projects.
"When I was joining commercial buses (trotro) and taxi in executing my work as a Regional Functional Executive, some were laughing at me, but today they have seen the need to associate themselves with the achievements at the communications outfit. I thank God my efforts have not been in vain.

"I will not promise heaven but I promise to audit every branch and plan with the constituency executives to get a working document for victory 2020. Under my watch as a Regional Secretary, every Regional Executive will adopt one or two constituencies and work with the constituency executives to help achieve the ultimate goal of winning 2020. That is, moving the office of the Regional Secretariat to the door steps of the grassroots."