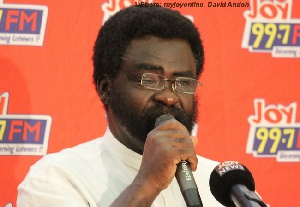 Harsh critic of the Mills and Mahama administrations, Dr Richard Amoako Baah, has revealed he is now a registered member of the governing New Patriotic Party (NPP).
"Right now, yes, I am for any party that sees to the progress of Ghana, yes I am NPP now, I'm registered NPP," the former head of the political science department of the Kwame Nkrumah University of Science and Technology (KNUST) told Moro Awudu on Class91.3FM's Executive Breakfast Show on Monday, 20 February.

Asked when exactly he joined the NPP officially, Dr Amoako Baah said: "It's been a while," and laughed.

According to him, the Mills and Mahama administrations were failures, thus his decision to join the "alternative".
"If NDC were doing well, I would have supported them," he noted, but said the Mills and Mahama administration failed to listen to his counsel, thus their failure.

"I'm happy NDC lost," he added, saying he has been to the Flagstaff House a few times to meet with Vice President Dr Mahamudu Bawumia and some government officials.