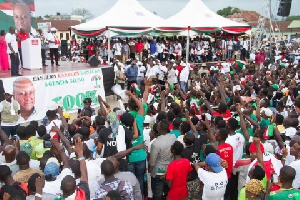 The Ashanti Regional Chairman of the ruling National Democratic Congress (NDC) Yaw Obimpeh has said he's working with the 1 million votes target in the region as against the revised 1.5 million figure put out by the party recently.
The party over the weekend at the launch of its Campaign towards the December 7 election in the Ashanti Region which is the stronghold of the largest opposition disclosed that it is aiming at securing 1.5 million of valid votes in the area to make its victory very easy.

The NDC early this year launched Operation One million votes in the Ashanti Region with the hope of increasing the party's votes in the 2016 general election.

In the 2012 election, the NDC had 612,616 votes while the NPP secured 1,531,152 votes in the Ashanti Region.

The Mahama-led government has ensured massive developmental and infrastructural projects in the Ashanti Region including the Agogo Shoe Factory, the construction of a Military Hospital, construction of major roads among others.

It is expected that these projects will win the NDC appreciable votes in the December 7 elections which will make its victory a done deal.
Addressing thousands of party members, supporters and sympathizers from across the 47 constituencies in the region at the launch of the "Operation 1.5 million votes in Ashanti Region" in Kumasi in Saturday, the NDC 2016 Campaign Coordinator, Kofi Adams stated that the party is confident of achieving its new target.

"This new target is based on a research and report gathered in the various polling stations. So we have increased our target from I million to 1.5 million votes, and we'll definitely achieve this target."

But in an interview on Asempa FM's Eko sii sen show Monday, Mr Yaw Obimpeh stated that he prefers to work with the initial target number until the research findings prove otherwise.

"I am working with the 1 million votes target in Ashanti Region and not 1.5 million votes ass has been put out. But our National Coordinator of the NDC 2016 campaign, Kofi Adams has indicated that per his research the NDC will garner 1.5 million votes, and so me I still stand by my 1 million votes, so he'll soon submit his research findings which will direct us as to what we should do to get the numbers we are looking at. But as I speak now, I still stand by the 1 million votes, that is the target."