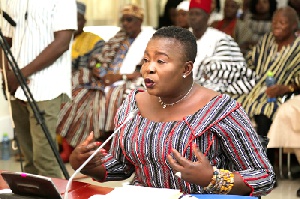 The Upper East Regional Minister Paulina Patience Abayage has hit back at the opposition National Democratic Congress (NDC) over suspicion of the use of public funds to purchase some five bags of sugar for donation to the party in support of the Ramadan fast.
The minister in a sharp response described the action of the Regional Executives of the NDC as unfortunate adding that she has the financial muscle to buy those bags of sugar and did not need to use state resources for such a venture.

Some five bags of sugar presented to the opposition NDC by the minister through the Upper East Regional Youth Organiser of the New Patriotic Party were initially accepted and in a dramatic turn returned.

According to the NDC, it doubted the source of cash used to purchase the sugar and did not want to be part of any potential 'corrupt' means of purchasing the sugar as receivers.

However, Ms. Paulina Abayage in her usual amusing posturing on Yem Radio in Bolga when asked about the source of funding for the purchase of the bags of sugar retorted "does the RCC buy sugar for muslims during Ramadan? Just five bags of sugar and someone thinks that I can't buy?"
She further stated emphatically that "I bought the sugar with my own money. Those who know me know am a very generous person".

While expressing her disappointment at the turn of events and subsequent rejection of her well-intended outreach to the opposition party, she noted that the development was unfortunate adding that "This NDC people, let me tell them am not like them. I bought the sugar with my money and I'll continue to do it".

The rejected bags of sugar she disclosed were subsequently shared amongst persons suspected to be members of the governing New Patriotic Party (NPP).