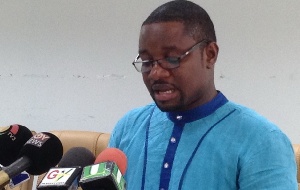 Wed, 20 Jan 2016 Source: peacefmonline
Deputy Communications Director of the National Democratic Congress (NDC), Fred Agbenyo has likened the leadership qualities of President John Dramani Mahama to that of Ghana's First President, Osagyefo Dr. Kwame Nkrumah.
According to him, President Mahama is Dr. Nkrumah personified and he was, therefore, confident the President will win the votes of Ghanaians in the November 7, 2016, elections.

Speaking on Peace FM's Kokrokoo, Fred Agbenyo touted the achievements of President Mahama's administration which ranges from road construction to building of Teaching hospitals in the country to alleviate the plight of the Ghanaian citizenry.

To him, President John Mahama will remain in office till 2021 and continue his "good works" for Ghanaians.
"I am seeing a President Nkrumah in President Mahama," he stressed.

Touching on the opposition New Patriotic Party (NPP), Mr. Agbenyo noted that Nana Addo is not a good leader because he cannot manage his own party, let alone manage the entire country.
Source: peacefmonline