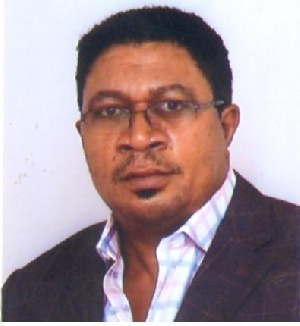 Carl Wilson the former Chairman of the Confiscated Vehicles Committee under the late Mills administration has stated that he's been made an enemy of ruling National Democratic Congress (NDC).
According to him, if for the sake of Ghana and in fighting against corruption, you have made an enemy of your political party, so be it.

When asked if he's been made an enemy of the NDC, Mr. Wilson said, ''I think i have. There are so many things going on around me now, and to the point that my mother had to call and warn me to be careful. My mother warned me to be careful because i could be killed. I have not received any death threats yet but the things people are saying about Carl Wilson are not true. If it is the truth and you say it, i will not mind you but if it is false, i will retaliate.''

He explained that his movement, 'Move Ghana' was not formed to campaign against the NDC as some may say, because the party gave him an opportunity to serve and practice politics.
''I am not campaigning against the NDC. Why should i campaign against the NDC? When i returned from Canada to Ghana, i had the opportunity to serve Ghana through the NDC so i cannot campaign against the party. NDC gave the conduit to serve this nation.''

Carl Wilson speaking in an interview with Kwabena Agyapong on Eboboba on Rainbow Radio 87.5Fm said he is rather campaigning to change things in Ghana because ''i believe the entire system in Ghana is corrupt. So I'm campaigning so that the youth of Ghana would come together to correct the ills in our society. And I am not going to apologise for my comments.

He described as pathetic and wrong the false stories leveled against him. The political scientist when asked if he will honour any invitation by the president said, he can never refuse to listen to whatever the president want to ask him. You have to respect the office of the president. No matter what it is, i will honour any invitation by President Mahama even if I'm sleeping. He added, he would also honour the same invitation by Nana Addo should he be the President of the Republic of Ghana today. ''If Nana Addo is elected as President today, i will honour his invitation at anytime.''