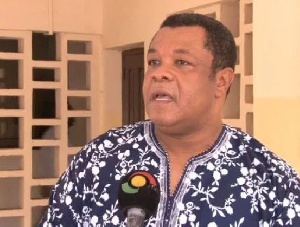 National Democratic Congress (NDC) flagbearer hopeful Augustus Goosie Tanoh has debunked assertions that he deserted the party in the past and is likely to do same should he not win the December 7, 2018 presidential primary.
In an interview after submitting his letter of intention to the NDC on Thursday, Goosie Tanoh insisted that he has always been working for the party behind-the-scene since he rejoined.

"I have been with the NDC after the late Professor [John Atta] Mills spoke with me and asked me to come back," he revealed.

"Since then I have been working behind-the-scene and those who I worked with can testify and people know me".

As one of the founding members of the NDC, Goosie Tanoh worked closely with the party's founder, Jerry John Rawlings.

But in 1999, Goosie Tanoh broke away from the NDC and formed the National Reform Party (NRP), a party he led during the 2000 presidential elections, garnering only 1.1 per cent of the national votes.

He returned to the folds of the NDC with his colleagues from the National Reform Party after several appeals by the late President John Atta Mills in 2007.
Though much has been heard and seen of him in the forefront of the NDC especially in both 2012 and 2016 elections, Mr Tanoh said his membership of the party is never in doubt, adding that it is not everyone working for the party who is seen.

He explained: "There are a lot of people who are like me who are working hard to keep the party afloat but such people are hardly seen yet they remain members of the party. Yes I had left at a point but I can tell you I have been around."

The core base of every political party is not the elite at the top calling the shots, but the people that are loosely referred to as the grassroots. These people, according to Goosie Tanoh, will be his focus when elected as the standard-bearer of the NDC in order to re-energize and mobilize them for victory in 2020.

"I have the programmes and the capacity to mobilize the party at the grassroots in order to execute the agenda of retaining power and bring back the NDC to what it is known for," he said

He maintained that development of a country does not begin from the Flagstaff House but with the people on the ground "and that is what Goosie Tanoh seeks to do".