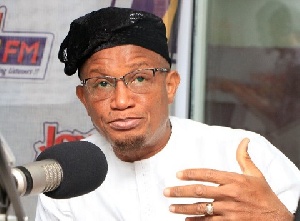 Minister of Information, Mustapha Hamid, has said he was depressed by the resignation of the former Deputy Minister of Food and Agriculture, William Quaittoo.
Mr Quaittoo described Northerners as "difficult" and "liars", descriptions which got Northerners incensed.

Following that, the Minority in Parliament, as well as the Dagbon Youth for Development, together with many other Northern groups, demanded his resignation.

The Minister tendered his resignation to the President on Tuesday, 29 August following his unreserved apology, a move which the Dagbon Youth welcomed.
Commenting on this matter on Asempa FM's Ekossii Sen programme on Wednesday, September 20, Mr Hamid said: "I was very sad. We have known each other since our childhood in Tamale and I want to say that he does not engage in tribalism, he does not look down on any tribe, be it Dagomba or others.

"I conceded that sometimes under pressure, when you are asked a question, you will answer in a particular way that you will regret later.

"But I think his apologies indicate humility on his side and so I thought it should [have] been left that way but he thought people have really been offended and so he should resign. I was really sad."