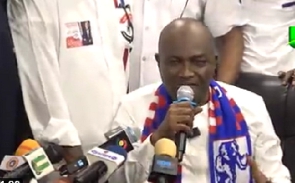 Fri, 23 Jun 2023 Source: GNA
Kennedy Agyapong, a flagbearer aspirant of the New Patriotic Party (NPP) has promised a zero-tolerance for corruption and corruption-related activities if he is elected flagbearer of the Party and ultimately, President of Ghana.
That, he said, would ensure accountability from public officeholders and deliver the desired development for Ghanaians.

"I believe in accountability. If God gives me the nod, he (pointing at his Campaign Manager) will be the Chief of Staff. Listen to me very carefully, one strike and he is out. Ghana first, he comes second," he said.

"If he does anything against this country, I will fire him. That is the only way we can move this country forward. So, can you imagine if I have fired my Chief of Staff? The rest would sit up because even if the Chief of Staff has been fired, what about me the director, what about me the manager? It trickles down and we become disciplined."

Agyapong made the remarks after filing his nomination forms to contest the flagbearership of the NPP, in Accra.

The MP also mentioned the creation of job opportunities for the teeming youth if elected as flagbearer of the Party and ultimately, the president as his priority.

He said Ghana had abundant natural resource such as arable land which supported agriculture.
"I have visited about 180 constituencies and have come to realise that we as politicians have done a disservice to the nation. With the arable lands, seas, rivers that God has given to us, we are endowed with so many minerals, a lot of opportunities in this country. But, everywhere you go, especially Volta Region, the resources are untapped. And I want Ghanaians to give the opportunity and challenge me that, I will make sure I turn the fortune of this country around, he said.

"I don't believe in theory. I am a pragmatic person, I believe in practical things. What I saw in Volta Region, what I saw in Afram Plains area and Northern Region, believe me, that we can change this country."

Agyapong stressed that Ghana's inflation and interest rate woes were attributable to the country's inability to produce and export more to earn.

He said, going forward, Ghana must pursue rigorous agro-processing policies to add more value to its raw materials to boost its foreign exchange earning.

"I don't believe in theory. Your inflation will be stable only when you have been able to stabilize prices, interest rate will be stable only when we stabilize our prices here and especially when our export exceeds import and we have excess of the foreign currency, that is when we can stabilize this country.

"It is not only book. Let's get down to work," he added.
He called for a change in the mindset of Ghanaians which made them feel inferior to citizens of other countries, stressing that, the time had come for them to be patriotic and put the country first.

He also urged delegates and Ghanaians at large, to "have faith in me that there is a new dawn that is going to change this country."

The NPP opened nomination for its presidential primary May 26, 2023.

The one-month long exercise is expected to close on Saturday, June 24, 2023.

The Party has scheduled August 26 for its Special Elections as well as November 4, for the National Conference to elect a flagbearer for the 2024 general election.
Source: GNA