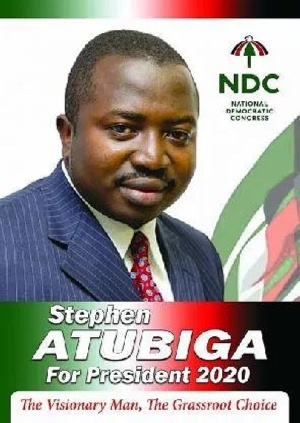 Thu, 13 Sep 2018 Source: Isaac Boamah Darko
National Democratic Congress (NDC) Presidential candidate hopeful Stephen Atubiga has said he is not perturbed by the intention of John Mahama to contest the party`s flagbearer ship position and announced his full readiness to compete against him in all aspects.
Stephen Atubiga who believes John Mahama`s intention to lead the party for the second time is only fair, denied assertions that his intention changes everything and renders the rest of the competitors invisible. Although he admitted that John Mahama stood tall amongst all the candidates who have expressed interest to lead the party in 2020, he added that Mr. Mahama has had his time already but this time around he would be given another chance since he (Atubiga) will be there to continue from where he stopped.

"Presidency is a four years contract… And a four year mandate, like a condom, you have one time shot at it so once you have used up the mandated years for your reign, that is it, so it is either you use it right and get another chance to come again as a rough rider, fine, you are done, because a condom can not be used twice… because your chance at a second term will determine how well you did the first time. But thank God His Excellency John Mahama stands taller than all of us because he has been a Vice President before, he has been a President once and he is one of the best President`s in this country and Nana Addo`s performance has given more credence to John Mahama so if I beat him as I am sure I will, his good works are what I will ride on to win. John Mahama has set a pace for us Northerners but that does not mean I cannot beat him. The delegates are calling for Atubiga and I am so prepared that I will match John Dramani Mahama and his brother dollar for dollar, cedi to cedi, pounds to pounds" he told Boamah Darko on Hot93.9 fm`s `MAAKYE` show.

It would be recalled that, the former President on Thursday August 23, 2018 through the former Ambassador to the United States Mr. Daniel Ohene Agyekum presented his official letter of intent to run for the party`s flagbearer slot. This came weeks after it emerged that some 94 NDC Members of Parliament had endorsed John Mahama and called on him to declare his intentions on whether or not he would contest to lead the party.
Stephen Atubiga who believes the 94 MP`s had no moral right to endorse John Mahama advised him to disassociate himself from them since according to him they were partly to be blamed for the party`s abysmal performance in the 2016 general elections.

"For the 94 MP`s who have endorsed John Mahama, I say they have humiliated the man and I would advise him to disassociate himself from them because they contributed to him going to opposition. Some of these MP`s were appointees in his government but they sat and looked on as the party slide into opposition. Anyone at all can become President but the person can only succeed if those he has appointed to help him do their jobs exceedingly well if not, the government fails. if the same people who failed to help you succeed comes back to endorse you, are you telling me you going to accept them and give them positions in your government again to commit the same mistakes so those MPs who endorsed John Mahama have no moral right to go and incite party foot soldiers to vote for the candidate they want" he opined.
Source: Isaac Boamah Darko