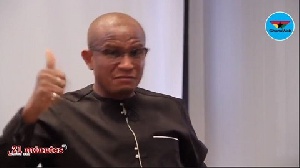 Minister of Information, Dr. Mustapha Abdul Hamid has said he will only take into criticism coming from the opposition National Democratic Congress (NDC) when it has "substance", MyNewsGh.com can report.
The Honourable minister took his turn on GhanaWeb's Time With KKB hosted by Kwabena Kyenkyenhene Boateng.

He called the bluff of the minority NDC who demanded either his resignation or an apology for what they call 'lying' about the amount spent in Office of Government Machinery under former President John Mahama.

But he had a reply, that the figure he mentioned was even charitable to them:

"You know that it is in pages 21 and pages 22 of the Auditor General's report of the 2016 public accounts that that thing that they presented to you that they spent about 780 million for Office of Government Machinery, that is what they submitted in the beginning of the year to spend, the media review upped it to 3 billion by the end of the year. Auditor General says they spent 6 billion, I actually even put out 3 billion, apparently, I had underestimated it, it is 6 billion and I have the records. Go and take the 2016 Auditor General's report on audited accounts of the Office of Government Machinery, so projections are different from actual spend. They projected 780 and that's what they are putting out", he told host Kwabena Kyenkyenhene Boateng.


He said he won't call the minority liars out of respect, even though they have lied, but that they were "inaccurate".

"They are inaccurate, I'll give them some respect and not say they are lying but with the greatest of respect to them, they are wrong", he pointed out.

Asked what he thought of "some people who belong to a particular party who seem to have issues" with his work…

He sharply cut the host: "And you expect NDC members to praise me that I am doing well?" He asked.


"I am not saying you are not doing well…" KKB the host clarified.. to which the Minister replied:

"Exactly, if NDC members are saying 'I'm not doing well, I'm not doing well', please cut it out." He pointed out.

Asked if he doesn't care about anything NDC does or day about him, he said "it depends on whether there is substance in it. If there is substance in it…"



Dr. Mustapha Abdul Hamid has said his outlook to his work is centered on people engagement outside the capital. His outfit has organized numerous Town halls in which policymakers get to engage with the people directly.
The ministry has covered the Upper East, Upper West, Volta Region, Ashanti, Western and some other places yet to be announced.

Watch full video below